Thoughts on Bihar & Valmiki Tiger Reserve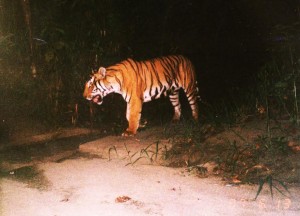 I have been watching the Bihar poll battle with much interest. My engagement with the state has largely to do with its wildlife (as is the case with most states), and i must commend the Nitish government on its support to Valimki, the state's only tiger reserve.
Valmiki was a little known reserve before, forgotten, off the map. Though I must say here,that h has its advantages as well.
It's on the map now….very much top of the mind, making news-(not always good-there has been rhino poaching!)
Over the past decade, the Bihar govt worked overtime to raise the profile of Valmiki, give it-authorities, conservationists, scientists-the support needed to protect, monitor tigers and other wildlife.
When an Indo-Nepal border road was proposed to cut through Valmiki, this was stemmed and is now going through the southern boundary of the reserve, thus protecting Valmiki.
(it is cutting through Dudhwa, Pilibhit in UP. the National Board 'for' Wildlife, in its infinite wisdom has granted permission for this absolutely disastrous road, which will split Dudhwa in its most pristine, inviolate habitats. What I find though is that the state (UP) is very concerned about what the road will do to Dudhwa. I see a glimmer of hope)
Meanwhile, back to Vakmiki, Nitish has put his weight behind conserving Valimki, and also dolphins., I am also told he has a soft spot for rivers, and is fascinated by stones.
The following is something I wrote for TigeRLink about two years back:
'Nitish has made a few visits to Valmiki Tiger Reserve. In one of his visits, he visited the Done valley, a 45 sq km incursion in the reserve inhabited by 25 villages, dominated by the Tharu tribe.
He was curious-asked many questions-about wildlife, natural history, management…to understand and grasp the situation,
On the way to Done valley, while driving along a road parallel to Nepal's Chitwan National Park, Kumar alighted from his vehicle and walked along the road and into a stream bed where he observed the boulders and pebbles with great curiosity.
Even in his last visit to the Reserve in April 2010, he was much interested in different shapes and colors of boulders typical to streams in the bhabar tract of forest. Some like to believe that his fascination with these ancient geological marvels could be the policy decision and pass legislation on not allowing mining in the hills in Biharstone mining in Bihar(though I am not 100% sure of this!)
When walking in the dry stream bed, he found numerous small holes in the eroded hill side and he wondered what these were. Nests of bee-eaters, he was told. His quick response was: take my photo with these nests. The CM was clearly fascinated!
He was delighted upon being presented a photograph of the strikingly beautiful bird as he was boarding his chopper at Bettiah, the head quarters of Valmiki TR.'
He took a deep interest in understanding the management imperatives of the reserve, and was quite disturbed by the shortage of field staff. He assured quick action to restart recruitment and promised to visit the reserve once again at the earliest.'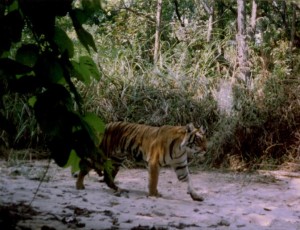 Photographs are of camera trapped tigers from Valmiki Tiger reserve, which shares a border with Royal Chitwan National Park, Nepal.
Thanks to the vision of the state..a road which would have split this important tiger landscape in two has been diverted and will run along the southern boundary. We are quick to criticise governments when they don't 'do' things, take unwise decisions, wreck our natural habitats-as we should be-as citizens who care about our environment.,
Equally we should applaud governments which have the vision to conserve our natural heritage for posterity, for future generations.
It's not an easy one…and governments will do this, if they know that it matters to citizens.
Photograph credit: Bihar Forest Department/Wildlife Trust of India
a story i earlier wrote on Valmiki:
http://prernabindra.com/2008/06/11/impressions-on-sand/