About me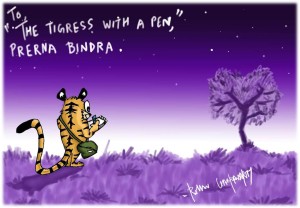 When Prerna Bindra goes AWOL, you would likely find her in the remotest corner of India watching elephants or fighting for a forest that needs rescuing.
She started her career in management-in fact in the (prestigious) Indian Institute of Management-Ahmedabad. And though promising and potentially lucrative, she knew this was not her calling. Truth be told, it bored her to tears; so she took a different path marrying her love for writing and nature and joined India's premier wildlife magazine, Sanctuary Asia. An year here, and she moved on. Convinced that wildlife needed a larger audience than what a niche (but wonderful!) magazine could command, she joined mainstream media and started work in a daily newspaper:The Asian Age, to move on to others like The Pioneer, The Times of India, India Today, The Week, Tehelka, over the years. She found there were few takers for environment and conservation journalism, in fact, her first editor (a big name then, and now) dismissed the idea, and said "animals make news when the tiger gives birth in the zoo, and the photographer goes for that, we don't need to waste a reporter (and money) for it." So while she wrote on subjects as varied as Bollywood, high heels and women bootleggers, launched a film glossy and edited an in-flight magazine, she continued to pursue her interest in wildlife. She did investigative stories on the black market in ivory and illegal mining, ventured into remote forests, including those under siege by insurgents.
Prerna has authored over 1,500 articles on nature and wildlife in mainstream media. Somewhere along the line she also wrote a book The King and I: Travels in Tigerland and edited an anthology on contemporary wildlife writings, Voices in the Wilderness.
Prerna soon shifted to full time conservation, though she continues to write and leverage the media for a strong conservation ethic.
She has found (to her horror), that the battle for conservation is not fought only in the jungles; nature's voice needs to be heard in the corridors of power and amongst decision-makers. Recognising that a strong legal and policy framework is critical for conservation, Prerna took to concentrating on working with governments at the local, regional and federal levels, to conserve India's wildlife and wild habitats through policy and legal reform, the promotion of education and awareness, and by supporting effective action on the ground.
To take forward her work, she recently set up a trust, Bagh aimed to conserve wildlife and its habitats.
Prerna has served on Uttarakhand's State Board for Wildlife and was a member, National Board for Wildlife and part of its core Standing Committee between 2010-13.
She also edits Tigerlink, THE publication for up-to-date information on the tiger. It is published Ranthambhore Foundation.
She was designated an Ashoka Changemaker in 2011, has been awarded the International Visitor Leadership Programme and is a Chevening Gurukul Fellow.
She has other awards to her credit.
Prerna's constant companion is Doginder Singh, a friendly, goofy Dog (as you may have guessed by the name) who she rescued (and who rescued her, or so he believes!) from the streets. She is intrigued by regional cuisine, loves spinach (yeah!) and Amarula, dreams of that home in the hills. She hates TV, loves books, and will read anything from books on nature, to chicklit. Calvin & Hobbes is something she has read a 100 times over, and she is waiting for the day Bill Watterson will 'lend' Hobbes for the cause of tiger conservation.
She lives in Gurgaon but her heart, she says, resides in the forest.
(My caricature is thanks to Rohan Chakravarty )