MATANHY SALDANHA MEMORIAL LECTURE 2015

I was already nervous to be giving the Matanhy Saldanha Memorial Lecture, he had always been such an inspiration, someone I looked upto.
Then I met the organizers to be briefed about the program, including the incredibly courageous and committed Alina Saldanha, his wife, who is currently a Minister of Rural Development of Goa. I could see (inspite of their best efforts to conceal it) the anxiousness in their eyes as I entered the room, dressed quite casually after a field trip (I was scouting the Goa rivers for otters along with Atul Borkar of Wild Otters) . They welcome me warmly, gave me piping hot coffee and a warm meal-and then one gentleman burst out, "you are so young (I was rather pleased to hear this, though I could see it was not shared), we kind of expected you to have gray hair, and be very learned…" he trailed off , now sufficiently embarrassed.
Well, I could now safely say, that concerned were equally nervous-and so I went in, to give my tribute to Matanhy Saldanha and his beloved Goa, determined not to let him down.
(Here are some extracts from the lecture, I did not have it all scripted, especially the Goa tourism bit. Here I also took the help of a presentation, which I have also uploaded).
MATANHY SALDANHA MEMORIAL LECTURE 2015
23rd of October, 2015, Panaji, Goa
First and foremost, I would like to thank Madam Alina Saldanha for this opportunity, indeed the immense privilege to be part of a function devoted to the memory of Shri Matanhy Saldanha a man I greatly admire, and whose life has been an inspiration to so many of us.
I would also like to thank the organisers, a special thanks Dr Nitin Sawant, who kindly—and patiently—put up with my many questions and rapidly changing schedule.
There are others in the audience, whom I can see—friends, colleagues, fellow conservationists, who strive to retain and protect Goa and it's incredible natural heritage—my gratitude for the battles you fight. It's wonderful to see you.
A warm welcome to each one of you gathered here. Your very presence is an indication that you care for the causes that Matanhy Saldana stood for.
This gives me so much hope.
I was not fortunate to be born a Goan, but there are some relationships born of the heart, and that's my bond with this land. I love Goa dearly, so whatever I speak today, it may be harsh, but I will be honest. It's a harsh, inconvenient truth, and it's because I care about Goa.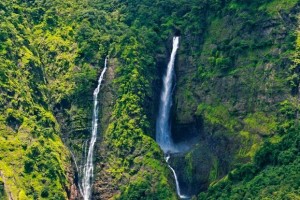 I am honoured, and humbled to be here. It is a great privilege to be delivering this lecture dedicated to a very remarkable man, an illustrious son of Goa, and India. I never had the good fortune to meet the late Matanhy Saldanha. I knew him, as many did, through his extraordinary work. I will not extol his many admirable qualities–the audience is well aware of his life's work, indeed, all of us owe a wealth of debt to him, for his relentless pursuit, and battles to keep Goa as pristine, as beautiful as God made her. To protect her land, forests, valleys, rivers, coasts, people, language, culture, cuisine.
His cause, of course, did not know manmade boundaries, went beyond the Goa he so dearly loved. He fought many battles…but if I were to talk on those, we would all be here well into the night. But I must take note of atleast one or two. His struggle against the pollution caused by Zuari Agro Chemicals Ltd, was a first in the country against industrial pollution. It served as an impetus to enact laws to regulate and control water pollution. Importantly, his perseverance, and success, inspired others. He also showed how the cause of environment—clean rivers, soils, seas is intimately linked to livelihood—a fact that resounds worldwide today. 'Saving the environment' is not, as we are led to believe, a preoccupation of the elite, or a fad for Page 3People. Environment, biodiversity, wildlife conservation is a health issue, a livelihood issue, a water and food security issue; and thereby a concern for each and every one of us.
His cause transcends generations—for it is an undisputed fact that environment degradation, loss of biodiversity and Climate Change threatens future generations.
We love our children…then why is it that we close our eyes to the fact that our choices and actions today is depriving them, and their children, of the beauty and the abundance of nature. Think about it.
Don't we want our children to breathe fresh air, eat safe foods, drink clean water, swim in clear springs, marvel at rainbows, revel in lush forests, be humbled by the ocean, delight in a dolphin, watch a tiger…?
That is what Matanhy baba strove for.
He was a visionary—he recognised how precious natural resources are, the need to conserve them for future generations; he was a revolutionary, he understood that the conflict for natural resources would only escalate, become a defining force. He recognised the pitfalls of ill-conceived, lop-sided growth—how it deprived and took away from the marganlised majority, to feed the haves, as we see it play out not just in Goa—and mining is the perfect example (and how it has dried water sources, poisoned the rivers, rendered fields infertile, killed forests essentially tofeed a construction boon in China, but that is not our subject today) be exported -and India, but indeed the world.
No, don't get me wrong, Matanhy baba was not against 'development'. Let me pause here, allow us a moment to think. What is this magical thing called development which we are not allowed to question? That we must believe that just by being, 'development' is good, patriotic…even if it lays to waste fields and forests, reduces our rivers to toxic filth, empties our seas?
Shri Matanhy raised these questions before many of us understood its connotations. He believed development and progress of a land are essential to improve the quality of life of the people. Electricity, quality education and public health services, sports facilities, connectivity, roads, libraries, clean water, local bazaars, parks, clear nullas, running rivers..for the people was his kind of progress.
He asked what the term 'Development' means and for whom this development is meant for?
To him, it was only development, if people—and not just a chosen few-were central to it. And people, he believed were part of nature. Nature had to be intrinsic to the 'development' landscape.
Otherwise, it was not 'sustainable development' a word we bandy about but don't really understand, let alone practice.
Matanhy baba was (and how it grieves me immensely to use was) courageous, principled, tireless, a man of integrity. He was a leader, one who became a politician so that he could serve his people, and his land better.
They simply don't make them like him anymore.
Matanhy Saldanha, you are missed.
A friend of mine, a fellow conservationist, activist—he is here in the hall now, sent the message that Goa's environment minister, the only one then to have loved Goa and its people, had passed away.
He said he wept. And sitting many miles away in Delhi—the city many of us love to hate, I shed tears too, for a man I had never met.
Another confession: I am also very nervous. One reason I have already explained, which is the fact that I am speaking in such august company, in memory of a person such as Matanhy Saldanha. The other is, I am not an orator. I am a writer—though not honoured by a national award that I can return! I may be generalising here, but writers, my friends, are shy. We sculpt words, for an audience we do not know. It is through the written word we reach people, not address them at public gatherings, though of course all that is changing with perhaps more lit fests than writers around! I always had stage fright (so much so that for my first appearance, in which I was a peacock, I fainted, rather than strut around as I was mandated to). I hope I am better, now, though I am unsure if you want to see me strut around on the stage!
"Tourism in Goa: Are we Heading in the Right Direction". When I saw the list of wide range of issues within tourism, I was to address and perhaps suggest the way forward, even provide solutions, I became even more nervous, if not intimidated.
I also did a random 'survey', asking whoever I met this weighty question. And whoever I asked, be it people practicing responsible tourism, to the fisherman, to the man on the street, the answer was a resounding 'No!'. Infact, the cabbie I took on landing here, whose livelihood is tied to tourism, echoed similar thoughts. Money was good, but sometimes he wanted the old Goa-some season when they could call their state their own (No feeling bad please, he added worriedly). In fact, he said, wise man, he wanted his son to earn of tourism too-who would come to Goa, only to see building and hotels? Not me, I answered.
And we laughed, if a bit sadly.
I was a journalist for many years. I also used to do travel writing, and edit an inflight magazine. When I wrote, or edited a travel piece, I always worried—would writing about a place, make the place known, popular? Would it invite the hordes?
I knew good, responsible writing on travel was essential, as much as responsible journalism—or travel is.
Nor was I being too self-important. I knew it wasn't just this one piece that turned the tide. But what happens when a place–a pristine forest, a virgin beach, a lovely little village, a hamlet off the map emerges from the shadows; when it moves from obscurity to become a destination?
Does it lose itself, lose its virginity? Shed its distinctive culture, and uniqueness to become a homognised tourist commodity? Does it get raped of its charm, and innocence, and pristine beauty?
For the sake of argument, let's assume it does.
Take the instance of most of our hill stations-from Darjeeling to Mussorie to Ooty, where more than the local fare you will get paneer pasanda-dal makhani-chicken malai tikka (and as someone from the land of five rivers—the Punjab, let me tell you, none of these is 'Punjabi' food, as is claimed).
I remember driving down the Konkan route a few years ago, a run from Bombay to Goa to Karwar. Wherever I stopped, even in the tiniest of wayside stalls, I could not get kokum sharbat for love or money. They offered me coke.
In the circuit house where I am staying currently I looked over the menu-veg kadhai, gobi Manchurian, and chicken chilli etc
But no poi or Xacuti or fish-curry. The rice I got was the uniform white, polished variety-not the unique red rice or the ukade xitt I seek when I come to Goa. No sol kadi to go with the meal, no coconut water when you come in from the hot sun. Also missing is sananas to end my meal with.
Such a shame.
One would think that the government guest house in a state that welcomes so many visitors would carry its identity with panache, not be one with the crowd.
Let me tell you a story.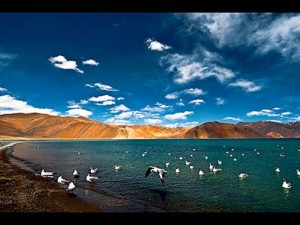 I was in Ladakh many years ago, and visited this lovely high altitude lake called Pangong Tso. It was pristine, there was nothing there, except the lake and the mountains and thousands and thousands of birds, many species, mainly migratory who had flown in from afar, from colder climes to spend their winter here. It was stunningly beautiful, calm, quite. The only sound was that of the birds.
Was.
Till Aamir Khan decided to do the climax of one of his films there…and Pangong Tso is now called the Three Idiots Lake.
And every damn idiot who goes to Ladakh troops over to the Three Idiot lake, stuffs himself with pani-puri and bhaji-pao and coke (oh yeah, there are stalls there now, selling the stuff). Mobiles trill, and are produced to take selfies (where Aamir stood, and Kareena twirled), and you can hear the twitter of tweets.
There are even tour agents who sell—and I kid you not, "Ladakh – The 3 idiots experience".
Let me tell you that the Ladakhis, wonderful people, are as upset as Goans are over your state being known as the party capital if India.
So let's get to Goa.
INTRODUCTION TO GOA
My first trip here was many years ago with some friends. You know how it is. We weren't, even then, the partying type. Still, most of my friends considered it almost a religion to check out all those famous rave parties we had heard of. How could we go back and say we had been to Goa, and not grooved? I must also tell you that I spent a good part of my growing up years in Gujarat which is officially dry. Therefore, the importance of Goa loomed greater. People in Gujarat with lesser money who wanted to drink drove over to Diu or Daman. Those to whom Goddess Lakshmi had been kinder, went to Goa. It was this fantasy land. Party capital. Booze capital. Where foreigners came, and worse bikinis and you could even do PDA. Bindaas. Yes, unfortunately, that has been Goa's image. The state reinforced it—so sooner had you crossed the border, the road were lined with booze shops. The only other place I have seen this is in Haryana, only there you have kiosks, selling booze and property with equal fervour. Very Goa like, I must say.
Anyway back to the rave party scene in one of Goa's hottest night clubs. Well, I was out in five minutes flat. It wasn't my thing. So I went and tried to find a quiet corner on the beach. It was late, and I sat there alone—not very confidently—watching the sea and the stars, trying to obliterate the bright lights. It was lined with shacks. There were couples and families, thinning somewhat, and also, what I imagined 'gangs of men, high on booze, and something else.
Soon, a guy came over. Not-too-young (to me then, I would think differently now), maybe 40, maybe 50. Attired in raggedy shorts and T-shirt. He smiled, "I am George", he said. I became even more nervous—all my parents dire warnings about strange men, and all the terrible things I had read come rushing to my head. The breeze was cool, but I broke into a sweat. But when I looked at him, his eyes were kind. I quelled my fear, and decided to give it-George a chance. I am glad I did. I wonder where he is. Thank you, George, I owe you much. And you did Goa proud.
Anyway, we got chatting and he asked me what I was sitting there, alone. I explained –how Titos & Co. was not really my scene, and I preferred the quiet, the sea and the stars. "Come with me to the sea," he said. At 6 am tomorrow.
And I was, having dragged a reluctant, sleepy friend with me.
I am so very glad I did.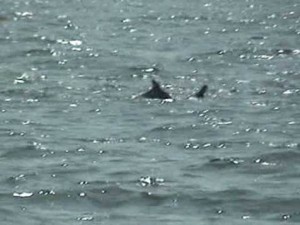 (in the wild this is the kind pic you usually end up taking-difficult to 'catch' the creature , as it goes in and out, in and out of the water, popping up wherever…, which is why i indulge in the experience, rather than obsess with photographs)

WATCHING DOLPHINS:
Was such a uplifting experience.
He took me into the sea in a creaky, leaky boat
I let him lead me to his rickety boat. We sailed, the boat creaked, spluttered, water leaked, spurted up into the boat not unlike a mini fountain. It occured to me that I can't swim—not that it would have helped anyway in the ocean. But all the panic is forgotten, all forgiven when George pointed to a fin poking out of the blue, blue sea. The fin disappeared, then a little ahead breaks waters, leaping up in the air, a small, silvery-blue body, leaping, soaring, up and down, in and out – embodying sheer joy and exuberance.
We watched from a distance, we did not take photographs…the time spent with a dolphin is one of the most magical experiences of my life.
Even more reluctantly, I got back to the beach. "Ask for George," says my fisherman friend, "if you want to see the dolphins again." For the duration of my stay, I saw more of George and the dolphins than I did of flea markets and feni.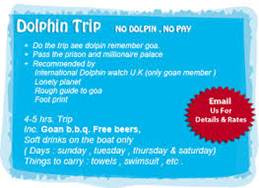 I was horrified to read, therefore, how now dolphin watching is the new sport, how it has become much like the tiger tamasha in some of the star reserves—where tigers (and in this case dolphins) are crowded, harassed, chased.
Chasing wild animals exhausts it of precious energy, interrupts, disturbs their natural behavior. Endangers the animal.
Dolphins sightings are 'guaranteed'.(or your money back!) Beer is free. How do you guarantee that the dolphin—a wild animal, and yes marine life is wildlife, even if we tend to view it more as 'fish' and food.
It's not a joy ride, its watching wildlife.
Dolphins are wild animals, and we are guests in their natural habitat. We need to respect that.
(The rest of the Goa Tourism section will be continued in Part II)
(My thanks to photographers, artists, cartoonists whose work I have used, most times without their knowledge. I owe you
)