No country for tigers…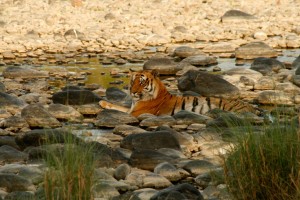 'Green highways seek exemption from forest laws', read a recent headline. I paused, in between my frantic worry at yet another assault on forests, when the extraordinary irony of it struck me. The idea, or rather the proposed policy of the National Highway Authority of India, is to make 'Green' highways by planting trees. But even before this noble deed is done, the highways ministry will seek to get rid of forest laws that protect trees. This is insurance for the time when they want to cut those plantations to further expand the highways without bothersome regulations coming in the way.
Remarkable.
And it only gets 'greener'. Many of the said roads and super highways run through wildlife habitats—sanctuaries and tiger corridors, ancient elephant paths and crucial wetlands, so these natural ecosystems will be destroyed, degraded and fragmented to make way for monocultures along the road, planted by contractors.
I will come back to roads and other such intrusions into wild habitat, but before that let me dwell on this perverse wisdom that seems to be dictating environmental governance currently. Last year, the Ministry of Environment, Forests and Climate Change released a document, 'Towards Transparency and Good Governance'. The document lists cutting down delays for strategic projects, avoiding time and cost overruns, expeditious implementation of linear projects as achievements of the MoEF&CC.
Protecting the environment gets a token mention, like an increased coal cess on mining—so damaging to forests—to be used to develop clean technology.
The chapter on 'Protection of Wildlife' is most illustrative—and dismal—about the ministry's current priorities. It extols its achievements among which are the appointment of the National Board for Wildlife (whose constitution of less than the mandated non-official members was contested in court), and goes on to list the projects that were cleared in and around Protected Areas. These include a fence along the India-Bangladesh border in Dampa Tiger Reserve, Mizoram (the state was against this, as they were concerned that the road will devastate their only tiger reserve, and the last of their pristine forests; and hinder wildlife movement in a contiguous forest that straddles countries), construction of the Gaduli -Santalpur road in Kutch Wildlife Sanctuary which would mean the end of the only nesting site of flamingos in India as per the site inspection committee of the previous board, and expansion of a highway in Sevoke-Gangtok, an important, and highly fragmented elephant corridor. Incidentally, the committee also gave clearance for the expansion of a railway line through from Sevoke near Siliguri to Sikkim's Rangpo that will pass through Mahananda Wildlife Sanctuary. There are reports that 48 elephants have died on this line alone since 2004.
How did a ministry mandated to protect wildlife, ensure clean water, air, soil and safeguard ecosystems so crucial for India's citizens, make facilitating clearances as its primary objective? And make a public statement of it too?
Giving credence to the changed mandate is the case of the National Highway 7, which cuts through Kanha-Pench corridor. Enough has been said and written about it. But, is it ever enough? How did it come to pass that one of the world's finest tiger habitats has been splintered, even as a perfectly viable, if slightly longer alternate road, was ignored? Expert advised mitigation measures were dumped citing shortage of money. As the minister for environment Prakash Javdekar said, "We are a poor country and must be practical." And here I thought we were the economic superpower, with the Prime Minister calling India the only ray of hope in a world of economic gloom and doom.
Wildlife and forests laws were broken, bent; tiger concerns dismissed—and today the NH 7 expansion is on at full swing. Old growth forests, regularly used by tigers and gaur are being cut, leveled. The expanded highways with its heavy load of fast moving traffic will leave little scope for wildlife to cross.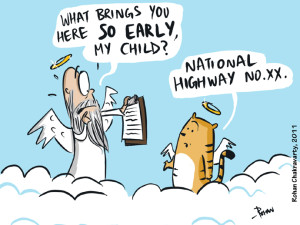 To the argument that roads are important for connectivity and economy, let's put that into context. Yes, there are few remote regions which lack connectivity. And even in urban scapes touted as 'millennium cities, roads desperately need proper maintenance and repair. But do we need to build, expand, roads, regardless of consequences: not just ecological, consider the devastating impacts of tunneling, construction and other such haphazard development in Uttarakhand floods). The huge economic losses and a tragedy of lives lost. Experts say road building (and dams) in the Himalayas is destablising this new mountain range and are causing frequent landslides and earthquakes. Yet, India's road industry is on overdrive, even as currently we have the second largest network in the world with total length of around 4,320,000 kilometers, with ambitious plans to build national highways of over 30 km a day. This does not include state highways, district roads etc.
Many of these pass through national parks, sanctuaries and other prime wildlife habitats. The impacts of roads on forests and wildlife have been well documented-besides direct mortality, they fragment and degrade forests and bring in ancillary development. Indeed, Eneas Salati, a Brazil-based scientist summed it up succulently by saying, "that the best thing you could do for the Amazon is to blow up all the roads."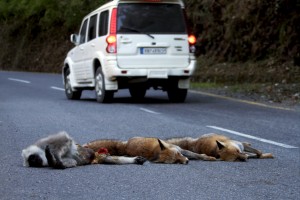 What is happened is diametrically the opposite. Policies, regulations and laws that govern roads and other linear intrusions are being weakened. A policy decision was recently announced "to clear all linear development projects like roads, railway lines, canals". A road can start being built even if forest clearances have not been obtained for the forest to be "diverted". And road construction (and other 'strategic' projects) within 100 km from India's international border—which house one of the finest wilderness—can get a general clearance, not on a case by case basis where their biodiversity and other impacts can be assessed.
It is not just NH7, a road is planned through the finest, most pristine part of Dudhwa Tiger Reserve, the highway through Rajaji is being expanded, a railway line has been given the green signal in North Bengal even as that particular stretch is called "killer line" for the dozens of elephants it has mowed down. River linking will drown the heart of Panna Tiger Reserve, there are plans to make operational the Kutku dam, which will submerge the tiger forests of Palamu Tiger Reserve (Jharkhand). And this is just part of the list, a tip of the iceberg.
How can we even consider intruding into and obliterating the most sacrosanct of wildlife habitats: national parks, sanctuaries and tiger reserves? If we are truly committed to protect our national animal, should we allow for Ken-Betwa river link and NH7 expansion? Especially considering that the former will spell doom not just for the reserve, but also for the people of this dry region, and the latter has viable alternatives. Yet, we bulldozed ahead. Makes one wonder if our commitment to save tigers is a mere eyewash, like those 'green' highways I mentioned earlier.
And if these high profile parks have been dismembered, what hope do forgotten habitats like Palamu have?
Editorial TigerLink, February 2016
Acknowledgements
the cartoon is thanks to Rohan Chakravorty (greenhumour.com/)
​
The picture of the red fox, her cub and a langur killed on the road is taken by Dr Bivash Pandav who writes in www.conservationindia.org: "While returning from Nainital in November 2010, I came across these road kills. The langur was first killed by a vehicle. Some time in the night, while a red fox mother with her grown up pup (a female) were presumably scavenging on the kill, they met with the same fate as the langur. I took this photograph early in the morning on the Nainital-Kaladhungi road that used to be a bridleway until three or four decades ago."
I found Kanchi Kohli's article very helpful: "This is what has become of a ministry which is supposed to be the environmental voice of the country" (May 2015, in CounterCurrents)