On the wild beat…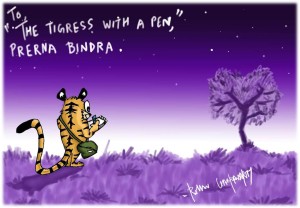 When i first started my career as a journalist, i (full of zest & idealism, and with stars in my eyes) told the editor (you would know him, BIG name-no longer an editor) who was interviewing me for the job: I want to write on forests & wildlife. He laughed. He said, "and you fool, you think I will pay you for that? We send the photographer when a cub is born in the zoo. We don't waste reporters."
I was bright, he said, I could join. But writing on nature/environment was not part of the job. Not at all.
But i did.
Even though it wasn't my job.
I was given the title of Features Editor , and tasked with editing features, launch a Bollywood mag, write on theater, relationships, films, celebs. Page 3 stuff, soft stories. Find out where, and when, Hrithik was getting married, and who Priety Zinta was hooked with, and what was the latest with Ash.
I did. And did it well.
Then when 'work' got over, and those employed with newspapers, know that it rarely does. Get over, I mean. Still, post that, my second life started. I would track wildlife stories—meet, talk to conservationists, people, officers, researchers. I would do my research—and the Internet was nascent then—was it really there? Very occasionally, I would plead for a day's leave and go to the field.
My day would start very early-go to the office before the hordes descended and official work began. And work on my wild story, type it out, and slip it the news list, print a copy, leave it on the desk of the news editor.
My wildlife stories started appearing in Page 1.
And readers started writing to the editor.
An year or two later, a 'rival' newspaper called me. Its editor, nice man, said they now were thinking of getting a reporter to cover environment as our daily covering it extensively. And well. Readers had noticed. So.
Was I interested? (I wasn't). And you know what—throughout my journalistic career, this truth was perpetuated-forests and wildlife was simply not a beat, or a specialty. I was on the editorial side, or covering health-'human interest' stories, features. But I still wrote on it. When you present an editor with good, powerful stories, I found they could rarely turn it down.
I did it because I believed it was important, because there were stories that needed to be told.
Well, I will cut this rambling short…only say here, that there were those along the way who shared my belief, too.
Why am I writing this? Because I often find reporters covering wildlife are disheartened because media houses typically don't offer budgets time, mindspace to do in-depth, investigative stories. They ask for advise, share their burden, some want to shift and do conservation.
My friends, Persevere…there is no other way. Write. Yes, focus on conservation if you really want to, but writing/covering conservation issues in the media is equally important.
Nature needs its spokespersons, don't shy away.
Incidentally, i still hear those rejections sometimes, and here are some of the varying responses
• "Oh, we will take your story, but not this week, we have India-Australia series/Maharashtra elections/Indrani Mukherjea…you get the drift?
• "Great Indian BUSTARD. ha. HA. HA." (really)
• We just took a bustard story.
• Are there tigers in this story., no? chuck it.
• If it's poaching, it's sexy. All the other stuff won't cut.
• Political angle hai kya?
• Arre, don't you know they pay your salary? You can't write about them (I won't name the industrial house as i can't prove the editor said this, but he did). It was not the last time i heard this. though versions varied, companies changed…
• No. you can't go chasing elephants, tigers etc.
• ETC
And readers, write to the editor. Please. Don't tell ME the story was good, or not—tell the editor. So that they know, nature matters.