Himlayan Blunder
Thousands have died in Uttarakhand's floods, many more are missing and millions of lives have been shattered as people have lost their homes, their livelihood, their way of life. The devastation continues to unfold  and the impacts will be borne by the locals for years to come.  The scale of tragedy is humungous—and has been reported widely.  Part of the dialogue has also been the fact that while the deluge was natural; the human and infrastructural cost of the tragedy was manmade. The worst affected districts of Chamoli, Pithoragarh, Rudraprayag and Uttarkashi are those which have seen maximum deforestation, and  where maximum forestland has been diverted for development activities such as roads, hydel projects, transmission lines.
The Himalayas are the youngest mountain range in the world, and hence are very erosion prone and susceptible to floods and landslides.  This fragility of the region—and the consequences-were ignored thus increasing the risk manifold; as was the fact that the Himalayas are the water tower—birthing and nourishing rivers that feed millions in the plains below.  Environmental regulations were  inconvenient-blips on the path of 'growth': We blasted the mountains; damned, tunneled, mined the rivers; constructed multistory buildings over hills and slopes, on river beds and flood plains.
There are abo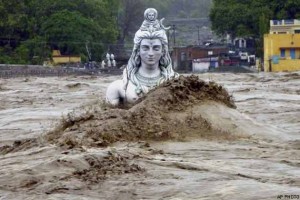 ut 75 dams planned bumper to bumper on the Bhagirathi, Alaknanda, Mandakini and many more on other rivers of the state(currently 45 operate, and about 200 are proposed in the state), with little thought to their ecological or cumulative impacts.  Yes, we need to meed out energy requirements, but equally, we also need to assess the current underutilised potential of dams, the requirement of hyderopower, and other impacts of the dams to arrive at a holistic cost-benefit analysis. Massive swathes of hills have been deforested. Roads have been built and widened—many a time entrusted to private contractors who may know nothing of the geology of the region but are well-versed in the art of greasing palms.  The pressure of pilgrim traffic is another factor. The idea of a pilgrimage is the effort it takes (you could even say it was tapasya of a kind) to pay obeisance to the Gods, one was fortunate to do the Chardham or seek the blessings of Hemkund saab, once in their lifetime. Now, a visit to the Gods is –usually-an annual excursion done with extended family in an SUV, with other holiday itineraries thrown in. To cater to this immense traffic (over 12 lakh this year in Kedarnath and Badrinath., in the past decade the number of tourists has increased by 155 per cent)  roads were constructed and widened (green considerations rarely hold their own in matters of religion), fancy hotels and budget lodges mushroomed, bazaars and eateries sprouted. Devbhoomi now resembled a Ghaziabad, the Ganga, a gutter, and her abode…a garbage dump.
This is not meant to be disrespectful to any religion…. But if the Gods are sacred, then the rivers and forests that surround the shrine are scared too.
Their sanctity demands respect.
Let's look back on other calamities, deemed 'natural'.  Uttarkashi  saw a similar tragedy in August 2012 leaving about 30 dead, hundreds missing. TV channels ran footage eerie familiar —of buildings collapsing like houses of cards. And why just Uttarakhand? The crass race for ill-planned development has been the bane of each state. The Himalayas have been devastated across their range.  Have we forgotten the devastation of Sikkim's earthquake in 2011, induced and accentuated, according to some experts, by the multitude of damns across the Teesta.  We have also erased from memory the horror of the  2005 Tsunami, and the havoc it wreaked along the eastern coast. We have conveniently disregarded the fact that where mangroves gave shield, loss to human life and damage was minimal.
In Arunachal, more than 150 dams are proposed—this in the eastern Himalayas, which is located in Seismic Zone V. The Western Ghats are being pillaged with so-called 'green' projects-mini-hydel plants in the valleys and wind power along the ridges which will devastate the fragile ecology of the region.
In Goa, beaches are being landscaped and taken over by resorts, shacks, bazaars and other tourism paraphernalia;  in Gujarat, the seaside is being shaved of its mangroves to give way to Special Economic Zones,  in Orissa—which bears the brunt of repeated cyclones—ports have been planned all along the coast. Maharashtra plans a port every 13 km, the national average being one every 28 km. Compare that to Singapore which has only one, and US with about 30.
Have we questioned why this irrational, suicidal race to 'development', or cared about its devastating consequences, or questioned this myopic vision?  We skirt environmental regulations and additional costs that go to make our infrastructure safer-only so that people pay with their lives. And what about the huge financial costs such disasters—and their rehabilitation carry?
Another point: Much is being said about Uttarakhand's failure to accept the 4,000 sq km odd Eco Sensitive Zone (ESZ) of Bhaigirathi. Without going into its politics or the rationality of the decision, or its opposition,  it must be said that there is no basis to pin this disaster down to the state's stance on refuting this particular ESZ—which was proposed very recently. It is the cumulative impact of  faulty or  unplanned development, the blatant mockery of environmental norms over the years that has taken its toll.
As the disaster unfolds, India is undergoing the exercise to notify Eco Sensitive Zones (ESZs), envisaged to provide a 'buffer' or 'shock absorber' to Protected Areas, and regulate activities in these demarked eco fragile zones.
To understand ESZ, we need to go back to January 2002, the Indian Board for Wildlife (now the National Board for Wildlife) through the Wildlife Conservation Strategy -2002-16, which envisaged that an area upto 10 km from Protected Area areas should be notified as ESZs under section 3 (v) of the Environment (Protection) Act, 1986 (EPA) and Rule 5 (viii) & (x) of the Environment Protection Rules.
This was endorsed in the Goa Foundation case when the Supreme Court in 2006 directed Ministry of Environment and Forests(MoEF) to refer all proposals( for diversion and use of land for any activity or projects)  within the 10 km ESZ, where Environmental Clearance was granted, to the Standing Committee of the National Board for Wildlife. Interestingly, at the time the apex court observed, while seeking notification of ESZ from states that "…If the States/Union Territories now fail to respond, they would do so at their own risk and peril".
Yet, since 2002, few states have responded,  with only a  handful of ESZs notified,  till rapped by Supreme Court and the MoEF  which has currently given a deadline till July 31st to formulate  the ESZs. The MoEF published its guidelines (February 2011) ascribing ESZs to be site specific, but advise as a general principle ESZ to be 10 km around Protected Areas as a 'shock absorber'. In case the area was ecologically fragile and important, or crucial linkage or wildlife corridor, it could be extended beyond the 10 km. Activities within this zone are to be regulated and  fall in three categories  – prohibited, regulated and permissible.
For example,  mining, hydel projects, heavily polluting industries which have devastating impacts on fragile habitats are prohibited, while others like tourism, cutting of trees, electric power lines, drastic change of agricultural practices etc are regulated.
Lets consider tourism –an activity which has come under intense scrutiny following the Uttarakhand disaster.  If practiced in a sustained manner (we only have to look at our neighbour Bhutan to learn a few lessons on low-foot print tourism, and even construction on fragile landscapes) tourism can be a 'green' industry, providing for local livelihoods, preserving cultures and creating ambassadors for nature. The tourism business model we have now is a catastrophe —turning our hills stations and pristine wilderness into an urban scape with multistories, malls, traffic jams et al.  Creation of an ESZ, and proper implementation of its management plan through its monitoring committee would ensure tourism in a planned regulated manner, not killing the very product it markets.
This was an opportunity—to plan land use and development in the notified zones, so that it protects environment and ecosystems, ensuring livelihoods, and taking into account development concerns. All of which were to be done in a planned manner,  a concerted effort of all concerned departments.
Yet, most states viewed the ESZ as a curse, 'impeding growth' –as was seen by the universal rejection of the Gadgil committee report which ordained 60 percent of the Western Ghats as the highest-priority ESZ.  A majority of ESZs coming in now, with some worthy exceptions, are a mere eyewash failing to take its import on board. Many have tried to reduce the buffer to a minimal, even nil, most have bypassed 'developed' and populated areas into its ambit, thereby defeating the very purpose of the ESZ. As the current tragedy has shown, it is such areas which need planned development that takes into account the ecology and the geology of the region.
Uttarakhand is a wake-up call—to rethink and relook at the demarcation of ESZs. We also need to redefine the scope of the ESZ, to cover in its ambit not just Protected Areas, but other eco fragile areas. We need 'shock absorbers' and transition zones  as envisaged in the ESZ guidelines  not just around Protected Areas but other eco fragile areas: Mountains, rivers, coasts.  We have some answers under the rules of the Environment Protection Act which looks at issues related to development activities and their impacts on the environment, ecology and health and safety of people: Whether the activity will cause a temporary or permanent change in land use, the ecological, cultural values of the landscape-and the legislation governing it, whether it is susceptible to natural disasters, cumulative impacts. But such pertinent considerations -as well as mandatory processes appear to have been ignored, while cleaning development projects across India.
Will Uttarakhand's tragedy teach us any lessons? Will Uttarakhand , or any other state, or for that matter the centre, introspect? Relook their development agenda to factor in ecological concerns which protect our forests and eco-systems, and ensure safety of our people?
An edited version of this article appeared in The Pioneer