Save the Great Indian Bustard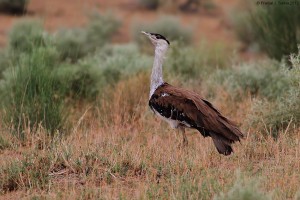 At the 29th meeting of the Standing Committee, NBWL on 6th  June 2013, one of my agenda included urgent action to save the critically endangered Great Indian Bustard.
Reproduced below is part of the agenda:
URGENT ACTION TO SAVE THE GIB:
Conservation Breeding of the GIB
To work with and support states to initiate all the action points to save the GIB as per the 'Guideline for Preparation of State Action Plan for Bustards' Recovery Programme'  of the Task Force constituted under the MoEF. These must be taken up on a priority basis by the states, supported and monitored by the centre.
Of importance is to urge states, and support them in securing and protecting all 'lekking' sites. These sites must not be subjected to any disturbance or degradation, diverted for industrial, infrastructure or other uses.
Equally important is stringent protection to the GIBs, and their habitat.
Of priority is and to be initiated on an immediate basis, a Conservation Breeding Program for the GIB, which is one of the key recommendations by the Task Force.   The conservation programme must be done with the best available expertise-within India, and internationally, and for this adequate, and timely,  funding, technical and other support  must be  made available. A road map and a strict time line for this project is crucial. We are running out of time to save this bird.
The task must be entrusted and monitored by a nodal authority, in consultation and collaboration with the experts, scientists, conservationists.
Have also pursued this matter with the states.
Take action too: Check: http://www.conservationindia.org/campaigns/gib; http://
Other Links: www.downtoearth.org.in/content/rajasthan-announces-project-great-indian-bustard, http://articles.timesofindia.indiatimes.com/2013-05-29/ahmedabad/39600838_1_great-indian-bustard-gib-habitats-project-tiger
PRERNA SINGH BINDRA
Member, National Board for Wildlife
Founder Director, Bagh
Sr Consultant, WCS-India
Editor, TigerLink
Member, SBWL, Uttarakhand