Suhelwa:On its deathbed
This article appeared in The Pioneer in July 2010, and was sent to me very recently by someone, so am placing it online.
Following this article, the Centre had suggested to declare Suhelwa as a tiger reserve-or what we propose is to make a satellite of Dudhwa so that connectivity in Terai is maintained
Suhelwa forest in Terai dying; so will tigers and jumbos there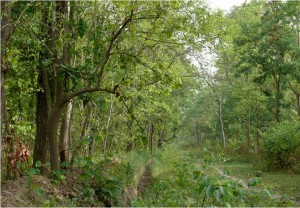 Prerna Singh Bindra | Suhelwa (Balrampur)
Legendary conservationist Billy Arjan Singh described Suhelwa as "the finest forests imaginable", waxing eloquent about its "plethora of wildlife and fine tigers". It was here that Singh's love for the wilds took root. It is just as well he is no longer around to see the 'sanctuary' now — the devastation rendered by years of negligence.
In the two days that I traversed Suhelwa, the destruction is evident: Rows of stumps, gutted vegetation, paucity of prey, grasslands degraded by cattle, constant traffic of people, silted water bodies, bone dry waterholes and the consistent, dull thud of the axe echoing in a silent forest. "Apathy and administrative weaknesses," admits a forest official, "have in recent years led to destruction of a magnitude that will finish the forest. And, Suhelwa will be lost for the tiger."
Suhelwa, a 127-km-long narrow strip of forest, is part of the Terai Arc Landscape, identified as one of the three most vital tiger habitats in India. The Terai Arc Landscape, over 20,000 sq km on the Indian side, is a network of protected areas and fragmented corridors which stretch from Kalesar Wildlife Sanctuary in Haryana to Valmiki in Bihar, and beyond to Chitwan and Parsa in Nepal. Suhelwa, bordering Nepal, is a crucial link in the Terai. "Suhelwa cannot be viewed in isolation," stresses Dr Bivash Pandav, Coordinator, Tiger and Asian Big Cats Programme, WWF-International. "It is contiguous to the forests of Nepal and through Banke and Bardia national parks maintains connectivity to Dudhwa Tiger Reserve that goes all the way up to Rajaji National Park in Uttarakhand."
Animals do not recognise manmade borders. Scientists assert that tigers cannot survive in isolated islands. "To save free-ranging animals like tiger and elephant such movement and genetic exchange is vital," says Pandav.
Recognising the significance of Suhelwa, the Central Government pushed for it to be declared as a tiger reserve but two years on, the state has taken little initiative. The indifference is evident with Chief Wildlife Warden BK Patnaik shrugging off Suhelwa as a "narrow forest". He is also "unsure of the number of tigers and whether it (Suhelwa) can sustain tigers", thus contradicting his own department, which gives the 'official' number of tigers in the sanctuary as 25.
The numbers seem inflated, with independent experts giving a conservative estimate of five to eight tigers in the sanctuary.
However, with no protection, the tigers are a sitting target. In July 2006, a tiger skin was seized in Tulsipur on the Indo-Nepal border near the sanctuary. "Preliminary questioning revealed that it was killed in the Baghelkhand beat of the Suhelwa range. Involvement of local politicians was also indicated and the accused are out on bail," says Sarvesh Singh, a local journalist with ETV, who played a key role in the seizure. Another tiger skin was seized in November last year, also in Tulsipur. Later, in March 2010, forest guard Munnalal Tiwari heard a gunshot in Jodvania Nala, in the core zone, where he says, tiger pugmarks had been seen earlier in the day. Three leopard skins were also seized in the same month. Poaching of prey is common —the preferred method here being 'obs' or camouflaged pits, and easy access from across the border has only worsened the situation.
The cancer of apathy runs deep. The biotic pressure is immense; while ungulates are a rare sight, thousands of cattle roam in the forest. I came across a huge herd of buffaloes grazing in Pipra, Bankatwa the core area of the sanctuary, right next to the Forest department quarters. Sand mining and quarrying go on with impunity. The scale of illegal logging is massive. We met Shamu, a slight man dragging his cycle overloaded with wood. He is from Bhagwanpur and just one among the many villagers we encounter. Shamu is employed on a daily basis by the forest department, but though an attendance register is maintained, the payment, he says, is very irregular. Instead, he is allowed to take out wood for sale, a system called begar prevalent during the British times but unofficially continues till date, though Supreme Court ruling of February 2000 forbids even a blade of grass to be removed from a sanctuary. Sources say that hundreds of cycle loads are taken out in this manner mainly for commercial use, to be sold to dhabas, the dozens of brick kilns that dot the landscape or are loaded in trucks for markets in Balrampur and even Bahraich well over a 100 km away."
Strangely, while the sanctuary lies neglected, and protection non-existent, forest roads — which only disturb wildlife — have been widened with NREG funds. Admits a senior official, "While there is negligible support for wildlife, there is pressure to do work under NREG from headquarters and political leaders. As it is the staff has little orientation towards wildlife, now their focus is on meeting NREG targets. So the sanctuary suffers."
Even though a petition has been filed in the Supreme Court's Central Empowered Committee in 2004 by Niharika Singh, a conservationist based near the sanctuary, highlighting Suhelwa's plight, it has been of little avail. The CEC is yet to make a site visit to assess the situation, and meanwhile, the situation on the ground has only gotten worse.
UP has barely five per cent of forest cover, and Suhelwa represents the last remaining tracts of Bhabar forests in the country. Shikar lore hails the tigers of "Balrampore for their superior tawny coat". The significance of Suhelwa, as a crucial link in amongst few promising tiger habitats in the world, cannot be stressed enough, especially at a time when there is international concern for critically endangered tigers. Unless, a concerted effort at three levels – local, State and Central — is made Suhelwa and its tigers will be lost forever.