A Common Heritage
Recently I came across reports from Pakistan that the critically endangered Great Indian Bustard has been sighted in the Cholistan desert which borders some of India's prime bustard habitat. The presence of GIBs has reportedly been documented in Pakistan after considerable interval, but there is little doubt that they regularly traverse borders. It is likely too, that it is 'our' birds that may have gone over. Little is known about their migration patterns, though bustards are known to be locally migrant. An immediate worry is the extreme vulnerability of the GIBs, given the high pressure of hunting in Pakistan(Khan et al 2008).
The issue that I would like to stress on here, is a larger one of the rich wildlife harboured in remote border areas, and the need of a strategy for the conservation of wildlife across borders, and increased dialogue and cooperation between neighbouring countries on the same.
To understand the importance of this, take the map of India and run your eye along its border. Have a different vision though––beyond the images of barbed wires lined with ammunition filled bunkers that international borders conjure. Let's start with India's western tip, Kutch in Gujarat—which runs into the Sindh region of Pakistan—and where the largest seasonal saline wetlands support a variety of avian life, including the only nesting ground of flamingoes in the subcontinent. Extending northwards to Rajasthan is the Thar desert, and here's another lesson: deserts are
not wastelands but vital, vibrant ecosystems with endemic and endangered species including the aforementioned GIB, houbaras, wolves, desert fox etc. Punjab is an interesting phenomenon, its extensive forests that once were home to the lion and the rhinoceros are history today, but the Indus River dolphin, extinct in India around the 1930s but still found in Pakistan, turned up at the Harike wetland, at the confluence of Sutlej and Beas about seven-years-ago. Guests from the neighbouring country, but now very much a resident of India!
As we move toward the trans-Himalaya––partly in Himachal, but largely in Ladakh––the cold desert appears desolate, barren, but is actually very rich in flora and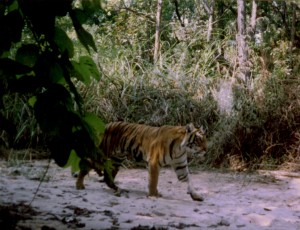 fauna. The trans-Himalayas, in the rain-shadow of the main Himalayan range, host kiangs, Tibetan gazelle, Himalayan tahr, black-necked cranes, lynx, wolves––and of course, the snow leopard. At Kargil, where India and Pakistan fought one of their bloodiest battles, camera traps revealed the presence of the snow leopard and the brown bear.
Travel down toward eastern India, in the foothills of the Himalayas,  and you are in the rich Sal forests and grasslands of the Terai––Katarniaghat, Dudhwa, Suhelwa, Valmiki and further on to the Eastern Terai there is Buxa, Neora, Manas––home to the tiger, and other endangered wildlife. The eastern Himalayas is one of the world's top biodiversity hotspots. Swathes of rich, pristine deciduous and rain forests, rising up to alpine meadows and snow-capped peaks, nurturing a dazzling assemblage of wildlife: tigers, snow leopards, clouded leopards, hoolock gibbon, golden langur, great Indian rhinoceros, binturong, tragopans, pheasants, hornbills, and the newly discovered Arunachal macaque.  No less than seven tiger reserves are on the border, all running into contiguous habitats across in neighbouring countries. Tigers treat manmade lines with disdain, transcending borders regularly!
Indeed, human-drawn boundaries have little meaning for nature. Wild, free, unencumbered by artificial lines and protocols, wild animals transcend countries, a fact that must be factored into our conservation strategies. Border areas by their very remoteness are also the last refuges for endangered flora and fauna.
I would like to draw attention to another issue, which was brought to the fore by a recent headline: "Indian authorities to initiate and speed up work on the rugged and inaccessible areas on the border". The article went on to explain that the exercise will require boring five miles through the Pir Panjal range and other tunnels allowing all-weather access to the remotest regions of Ladakh. Similar tunnel roads are also to be constructed through Himachal Pradesh. The import of these words, and the ecological consequences of such an exercise are causes for worry, more so as there are disquieting reports of a proposed bill that envisages disregarding wildlife and forest norms in the vicinity—reportedly 50 kms—of our international borders.
I would like to stress at the outset, that one is not undermining security concerns, which are priority and extremely important. I am not qualified to comment on strategic issues, and can only say that national security is of as much concern to me as any other patriotic Indian citizen. Equally, I would also caution against undermining ecological concerns, which must be factored in our planning for security, International relations, growth, and other development parameters. India has a robust legal and policy framework to safeguard environment, but under pressure of development and other  imperatives, this is gradually being eroded, or diluted, as has been discussed in earlier columns.
News reports routinely cite green 'hurdles' delaying, and halting projects along the border; fact is, that there is rarely a case that is denied. Sometimes, however, ecological imperatives must take precedence, and decisions filtered through after carefully weighing security imperatives along with ecological consequences.  Conservation is not just about 'saving a few sundry animals', as dismissed by a  bureaucrat in a national daily. Primarily, it is about water. The Trans Himalayas feed the Himalayan rivers, the forests along the border nourish and nurture these perennial rivers, on which depends the life-and livelihood of a third of the country's population. Where lies the wisdom in undermining water security, especially at a time, when it is globally accepted that water, will replace oil as the casus belli in the coming decades? Similarly, most communities dwelling in our border regions are dependent on local natural resources for their survival and livelihood.
I have a different dream, another vision: in a reign, and region of distrust and war and destruction, can we not hold nature as a symbol of peace? Wildlife, a unifying agent? Environment protection as a means for conflict resolution?  Doesn't' life in remote and conflict ridden regions, offer a symbol of hope? The idea of making Siachen, the world's highest, coldest, costliest battlefield, a haven, a Peace Park has already been mooted  by environmentalists, and in many important forums, but is yet to gain credence. It merits mention here that Siachen along with the glaciers of the Hindukush, Karakoram and the Himalayan ranges provides water to over a billion people.  Can both nations take forward this idea of saving the glaciers which nourish their people? Can they not unite and speak as one for the cause of saving a magnificent bird from certain extinction? Glaciers, wildlife and the fate of bustards might seem trivial in the context of  larger, complex  strategic issues, but maybe not so, when one considers that their fate is so closely linked with our lives and livelihood, especially in an era of climate change.
Peace parks- Protected Areas which transcend borders, are already a reality. The first such peace park dates back to 1932 when the Waterton Lakes National Park (Canada) was combined with the Glacier National Park in the US to form the world's first International Peace Park. Reportedly, Israel, Egypt and Jordan have agreed to jointly manage the marine ecosystem near the Sharm-el Sheikh Peninsula. Currently there are efforts to create a peace park across parts of Afghanistan, Pakistan, China, and Tajikistan. The proposed park's most celebrated and flagship species are the world's largest wild sheep-Marco Polo's sheep.
Borders are the final frontiers for many wild animals, the world's last great wilderness's, and nations must unite, for the sake of shared natural heritage, and their own people, to safeguard these common assets.
Credit: Bihar Forest Department/WTI

This column first appeared in
The Pioneer