Protecting Pilibhit
Even the tigers that you don't see, provide for as thrilling, as magical an experience as an actual physical 'sighting'. I recall such an 'encounter' that took place a few years ago. It was late, night had long fallen, and a half-moon cast its pale silvery hue over the dense Pilibhit forest as I drove past herds of startled cheetal, a madly hopping hare, and a small cat––probably leopard cat––that streaked past in a flash, to reach the Navadia Forest rest house in Haripur range.
After a simple dinner, and exhausted with the long journey, I settled down for the night, huddled under the blanket for warmth, but no sooner did my eyes shut—came that unmistakable rumble, reverberating through the jungle… aauungh, aauungh… Tiger! I shot up, bolt upright—any vestige of sleep, exhaustion vanishing as the excitement, rather the euphoria, took over. It was answered by another, fainter call, as though from further away. Probably two tigers. A tiger and a tigress? Possibly a courting pair…
Almost overriding the thrill of the encounter, though, was a nagging worry… for this land of the tiger is not secure, lacking the legal cover of a 'Protected Area'.
Welcome to Pilibhit Reserve Forest, Uttar Pradesh. Spread over 750 sq km, Pilibhit is part of the 'Terai' (Sanskrit for lowlands), a green strip of tall alluvial grasslands and Sal forests at the base of the Himalayas in northern India and western Nepal. Encompassing the Shivaliks and parts of the Gangetic Plain, the Terai Arc stretches about 800 km from Kalesar Wildlife Sanctuary in Haryana to Parsa Wildlife Reserve in Nepal, comprising a network of other protected areas like Rajaji, Corbett, Dudhwa, Suhelwa, Valmiki in India and Shuklaphanta, Bardia, Chitwan in Nepal; connected, by vital but increasingly fragmented wildlife corridors. The Terai is one of the most diverse regions and also amongst the most imperiled, cursed with one of the densest human populations in the world.
Historically, the Terai was sparsely populated, heavily forested, supporting a spectacular diversity of Asia's wildlife. The region was extremely malaria-prone, and therefore, virtually uninhabitable––so much so that one British officer remarked that "for the plainsmen, sleeping in the Terai in the monsoon meant certain death." Then came DDT. This deadly pesticide was used heavily in the 1950s in a massive effort to eradicate malaria, making the area habitable. And so was cleared one of the richest, most biodiverse forests… paving the way for settlements, cultivation. The priority was to increase  agriculture production, given that India then was food deficient. Gun licenses were also doled out to exterminate 'pests'—giving a free license to hunters. The region saw a sudden influx of refugees from what was now Pakistan, post India's partition, and the new migrants, an enterprising and  resilient  lot brought yet more area under the plough.
This large scale conversion to agriculture destroyed prime natural habitats-the PAs and forests of the Terai Arc today are the last remnants of these once vast pristine forests .
Pilibhit is a vital link in the Terai Arc, connecting India's Dudhwa Tiger Reserve and Nepal's Suklaphanta National Park through the Lagga Bagga forests. It is also a prime tiger habitat, believed to be supporting about 30 tigers, including breeding tigresses, according to a recent survey by the UP Forest department along with WWF-India. With a density of about four tigers per 100 sq kms, Pilibhit is today better placed than many existing tiger reserves. Recognising its potential as a rich tiger habitat, India's National Tiger Conservation Authority had given "in-principle" approval for the declaration of a 'Pilibhit Tiger Reserve' in 2008, though the reserves awaits notification by the state government.
The importance of Pilibhit forest is well-beyond its not insignificant size.  Protecting Pilibhit will help consolidate a contiguous block of forest of about 5,000 sq kms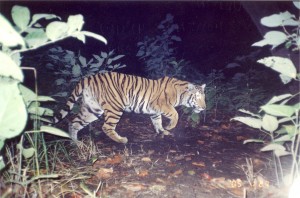 of prime tiger habitat connecting Shuklaphanta in Nepal to Kishanpur and Katarniaghat in Uttar Pradesh, Dudhwa and onwards to Surai––and the recently notified Nandhaur Wildlife Sanctuary in Uttarakhand.
This forest is a haven for other, equally endangered wildlife. The 'madly hopping hare' who escorted our vehicle was the hispid hare. Short ears, stout legs, bristly hair, shy, secretive, and very rare––we were extremely lucky that it decided to act as our sentinel. Its range is largely restricted to southern Nepal, North Bengal, Assam, Bangladesh, and this part of India, primarily Pilibhit. Another prized inhabitant of this forest is the Bengal florican, a critically endangered bird,  with a global population under a thousand. Once widely distributed in India, Nepal and Bangladesh, about 300 remain today in the grasslands of Uttar Pradesh, Assam and West Bengal. Vultures, whose populations have crashed alarmingly across the country, are reported to be recovering here—a recent census by the state forest department showed that there are  approximately 75 vultures in the region, a jump from about 50 counted two years back. Pilibhit also supports a small population of the majestic 'twelve-tined' — barasingha or the swamp deer. It sees the occasional transient  elephant and rhino.  There have been  some 'new' , or rather newly recorded residents as well. The camera trapping exercise in 2010 revealed the presence of the rusty-spotted cat, the smallest member of the cat family and endemic to the Indian sub-continent. Another first was the four-horned antelope, or the chousinga, hitherto unrecorded in these forests, or anywhere this north of the country.
Pilibhit is a miracle. Even though a non-protected Area, it is evidently, one of the richest in Terai—a testimony to its history of protection coupled with the strong connectivity it enjoys..
Yet, its future is very precarious. Wildlife protection is not a priority in 'territorial' commercially harvested forests such as Pilibhit. Commercial exploitation of forests harms the fragile ecology, besides being a major disturbance to wildlife.  Commercial plantations, which form the core of reserve forests, could well be a death knell for grassland dependent species such as the florican and the hispid hare. Reserve forests are also very vulnerable to non-forest uses, and exploitation for development and other purposes.
There are other issues—the gravest being that of severe human-wildlife conflict. The Pilibhit forest is abutted by sugarcane fields, into which tigers frequently stray. To the tiger seeking cover, or the tigress looking for a safe spot to give birth to cubs,  sugarcane fields are like a natural extension of the grasslands and forests. The tall grasses offer perfect camouflage, excellent cover, prey in the form of wild pig, nilgai and cattle. The crop is hardly disturbed for at least six months––until harvest time in winter. Farmers frequently surprise tigers within the cane, and that is when human-tiger conflict peaks, many a time with fatal consequences.
Giving Pilibhit the status of a tiger reserve is essential, not just to protect this vital tigerland for posterity, but also to mitigate and address the severe human-wildlife conflict.
This article first appeared in The Pioneer.
Pix: The photograph is from Shuklaphanta which is contiguous to Pilibhit. Courtesy: WWF