Failing our Gods: The slaughter of elephants
Six elephants were killed by a speeding train in Jalpaiguri Forest Division of North Bengal on the evening of November 13. More, if you account for the fact that three were pregnant. The train had mowed down ten elephants, including calves, from a herd of 40… the horror of a tattered elephant carcass hang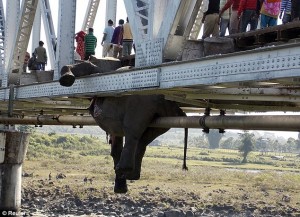 ing from a railway bridge… haunts. There has been an outpour of shock and grief over this tragedy,  but  will this translate into action?  Will yet more crocodile tears be shed, till the next carnage?
Allow me the cynicism. After all, this is not the first time —far from it —that Indian Railways has mocked its mascot, Bholu the elephant. In fact, the railways tops the list of causes for elephant deaths in India, with about 175 elephants killed by trains since 1987.
The Siliguri-Alipurduar track in north Bengal is particularly fatal; in the past five years, over 30 elephants (and scores of other animals) have been hit by trains, the worst incident being the recent one. Another tragedy of similar scale occurred here in September 2010. Five elephants died on the spot, two were critically injured, and met a slow, agonising death. One among them was the matriarch, who had reportedly charged at the train — one imagines, in panic and pain, at the massacre of her family.  Again in February this year, three elephants were killed when a train rammed into them — on the same track, but further ahead in Buxa Tiger Reserve. There was much browbeating then too, but as we can see, nothing has changed. Not really.
Of course, there have been strong reactions, and some attempts to address the issue. Following the horrific incident of two tiger cubs being mowed down near Tadoba and the death of five elephants by train in Ganjam, Orissa, Union Minister of Environment and Forests Jayanthi Natarajan took the railways to task. In a strongly worded letter to her counterpart in the Railways Ministry, she reportedly said that the railways was "devoid of compassion" and that they violate the law and ignore specific information, resulting in elephants being run over by speeding trains. At a meeting organised between the two ministries, an advisory to the railways to avoid elephant deaths, given out in 2010, was reiterated. Key among the advisories was "slowing down of trains in vulnerable patches for wildlife", which simply hasn't been adhered to. It is reported that the recent 'killer' train was speeding at 80kms an hour, if not more.
Other decisions included updating the list of well-known vulnerable patches, posting forest staff at railway control rooms in sensitive areas and regular meetings between the ministries.
Another action-point was the scheme to electronically tag elephants, especially in high-traffic areas, so that the railway and forest personnel were warned in time of herd movements, as satellite collars can send real-time data on elephant locations in short intervals. Well-intended certainly, but it needs to be questioned whether it is even remotely feasible — let alone desirable — to radio collar all pachyderms not just here, but in other vulnerable spots such as Orissa or Karbi Anglong in Assam, where elephant density is high.
Hard as it is to reconcile to the slaughter, the real tragedy is that such fatal accidents, while not eliminated, can certainly be minimised — but only if we take some hard decisions.
Let's first start with the Siliguri-Alipurduar track in north Bengal. The first step is for the railways to acknowledge the problem; each accident is accompanied by a blame-game. In this case the railways shrugged off responsibility saying that they "they weren't informed of the elephant movement". It is important that trains go slow on this track and super-fast trains-which do not halt at the Dooars be discontinued at night, when most such accidents occur.  A viable long-term solution is that the load of train traffic be shifted to the NJP-Falakata line that doesn't cut across any significant elephant corridors or protected areas. It is currently a single line, and must be upgraded to a double line to accommodate the diversion of trains.
The issue also goes beyond wild animal deaths. Such accidents also risk passenger safety.  One passenger on board died from the impact  in the Ganjam accident. Collisions with elephants invariably damage and derail trains, leading to temporary suspension of services and economic losses. Understandably, slowing down of trains for long stretches is not tenable (though it's a must in tracks where the vulnerable stretch is not of a great distance). Equally important is to sensitise railway personnel at all levels, effective communication of elephant presence to railway authorities and stringent patrolling backed by sufficient and trained staff.
Conservationists agree that the only real viable solution is to realign the rail lines (as well as highways) through crucial protected areas and habitats. At the root of fatal accidents is habitat loss and fragmentation. Railway lines criss-cross sanctuaries and reserves and slash crucial wildlife corridors. Forty of the 88 identified elephant corridors in India have national highways running through them, 21 have railway tracks and 18 have both.
If we are to grant elephants the basic right of passage, then it is important that we secure their habitats and corridors. Yet the Government is fighting shy of granting legal cover to elephant habitat. While States like Chhattisgarh and Orissa bowed to industry pressure and backed out of creating elephant reserves which overlapped coal and iron ore deposits that they had committed to, the Centre has surrendered to the coal lobby and is dragging its feet on securing elephant habitat. Currently, elephant reserves and corridors do not have any legal status or protective cover. The National Board for Wildlife has recommended to the MoEF that key wildlife corridors and Elephant reserves be declared as Eco-Sensitive Zones so mega infrastructural and other projects go through the rigour of scrutiny from a wildlife perspective. This was also recommended by the Elephant Task Force, which broadens the protective cover to include ESZs, Conservation or Community Reserves, or extension of existing PAs. They also recommend that railway projects — currently exempt — should be brought under the purview of the Environment Impact Assessment.
But these have been ignored, as has been a host of other recommendations of the ETF report, key among which was securing elephant habitats and the creation of an autonomous authority for elephant conservation along the lines of the National Tiger Conservation Authority. Forget that, Project Elephant has been without a director for a large part of the past three years.
According to the ETF report, the elephant's geographic range has shrunk by 70 per cent since the 1960s. Three out of 10 elephant deaths are attributed to illegal killing, train accidents, and electrocution.
The elephant is much beloved in India, a symbol of India's heritage, revered as Ganesha  God of Good Fortune, the 'dispeller' of problems and obstacles. Yet, we have failed our gods, failed to provide them a secure home, and safe passage.
(The writer is trustee, 'Bagh'. She is a former member of the National Board for Wildlife)
The article first appeared in The Pioneer dated 20th November, 2013.
The photograph i have taken off the net. I believe it is Reuters.