Goa: A Tiger State
The following was a report I had submitted to the the Minister of Env & Forest in June-after which he had proposed Goa as a tiger reserve. The report was a communication of the result of the years of work of concerned citizens, officers, staff, conservationists, ecologists in Goa to conserve the bio-diversity of Goa. This was also followed by a letter to the then CM.
Such sustained effort has received a sign of hope..a camera trapped picture of a tiger in Mhadei in Goa (see pix below). We hope to conserve this (and possibly a larger area) as tiger habitat. Thi9s is important to conserve the diverse forests of Goa which are always under the threat of mining. 
Currently, there is a dedicated team of forest officials in place across Goa's wild habitats, led by the  Chief Wildlife Warden, WCS-India is also partnering with the state (starting this January) to monitor tigers, and we hope that these sustained, concerted efforts will lead to better protection of the tigers of Goa…
A FUTURE FOR GOA'S TIGERS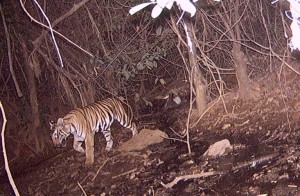 Goa: A Tiger State
World renowned as a beach paradise, few are aware that Goa also encompasses over 750 sq km parcel of the Western Ghats, a biodiversity hotspot hosting many endangered—and endemic–species.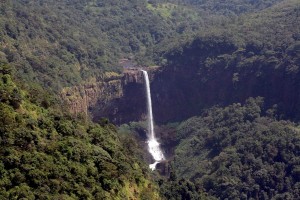 Significantly, the forests of Goa have consistently been showing evidences of tiger, including the presence of a breeding tigress. Coupled with the fact that this represents the northern end of the Western Ghats—perhaps one of the most populous tiger landscapes in the world with about 500 tigers—Goa gains significance as a tiger landscape.
 It is respectfully suggested, that Goa be recognised as a 'tiger state'. The plea is to declare Mhadei Wildlife Sanctuary (situated in Sattari taluka of North Goa and spread over 208 sq km) as a Tiger Reserve. Though tiny within itself,  Mhadei is a contiguous tiger landscape to Bhimgad Wildlife Sanctuary in Karnataka to its South East and onward to Anshi Dandeli Tiger Reserve to its South, which has 35 tigers according to the All India Tiger Estimate, 2010 (31-34 in 2008). Strengthening this population is the recent scientific establishment of genetic exchange through tiger migration between Anshi-Dandeli and the Bhadra-Kudremukh tiger landscape of Karnataka, another fecund tiger habitat.
This region also forms the catchment of the Mhadei River (the lifeline of Goa. Malaprabha, Pandhari, Bailnadi, Tillari and making it a tiger reserve will help consolidate the habitat and address the water security issues for the Goa for posterity
It is also suggested that state forest officials, local experts, researchers and other concerned NGOs/ecologists/scientists may be consulted to include other crucial tiger habitat in the tiger reserve, if considered appropriate.
It must be noted that there is considerable community support for the creation of a tiger reserve and for wildlife conservation (and against mining), which must be harnessed for tigers conservation by facilitating community tiger protection units, livelihood support, etc.
Significantly,  the forests of Surla, Sattari, Bondla Wildlife Sanctuary, Molem National Park and Bhagwan Mahaveer Wildlife Sanctuary, Sanguem, Netravali Wildlife Sanctuary and Cotigao Wildlife Sanctuary form a contiguous belt of primarily dense forest across the length of the state of Goa connecting the Western Ghats forests of Karnataka and Maharashtra.
 Tigers in beach paradise
 The wildlife census conducted by the Goa Forest Department had indicated the presence of three and five tigers in 1993 and 1997 respectively. The last census of 2002 had also estimated five. There have been consistent reports of sightings, cattle kills and other direct and indirect evidences. In 2009, the media ran reports of a tiger killed in Keri-Sattari at the foothills of Vagheri, in the Sahyadri hills. Following this, evidence of a tigress with cubs was established and pugmarks, scats, kills, sightings, camera trapped images and other solid signs of tiger presence have consistently been reported and recorded in this area, as well as in Mhadei, Bhagwan Mahavir Wildlife Sanctuary, Mollem National Park, Surla, Hivre, Charavne, Anjunem reservoir and Ponsuli forests.
With reports of tigresses with cubs coming in, it is clear that tigers in Goa are not merely transient animals (as dismissed earlier), but are a resident population. The region has several prey species including sambar, gaur, barking deer, wild boar and spotted deer.
However, the tigers in the state have failed to garner protection due to the mining lobby which has exerted its considerable influence to lobby against the establishment of tiger reserves. Mining interests in and around the Protected Area network—and tiger habitat—of the state have played their part in the state resisting any move toward declaration of a tiger reserve.
The Status of Tigers, Co-Predators and Prey in India, 2008, by the Wildlife Institute of India specifies that the Protected Areas of Goa and their contiguous forests in Karnataka and Maharashtra are possibly some of the best potential tiger habitats in the Western Ghats region even today and that they are in need of the best scientific scrutiny and monitoring. The report further adds that prey base restoration, conservation and strict protection can and will support a healthy population of large cats in this region. (The 2010 estimation report points out  that Goa can potentially be home to a small breeding population of tigers that can be sustained by Anshi-Dandeli and Sahayadri,  and would therefore benefit form being incorporated as part of the tiger reserve complex) This landscape and population has great potential to add to the Western Ghats tiger landscape. Given due protection, there is the possibility of nurturing this naturally and recently resurrected tiger landscape to grow into a larger source population.

Prerna Singh Bindra
Member, National Board for Wildlife
With inputs from
Nirmal Kulkarni, Ecologist
Rajendra Kerkar, Mhadei Bachao Abhiyan
Sanctuary Asia
———————————————-